News Release FOR IMMEDIATE RELEASE OCTOBER 30, 2014
WELD Racing Announces Partnership with Formula Drift Driver Justin Pawlak
Kansas City, Mo.
–
WELD
Racing (WELD), manufacturers of WELD Racing wheels, announces a new partnership with Justin Pawlak, or JTP as he is known by fans, for the 2015 race season. JTP has competed in the high-profile professional Formula Drift series for a number of years with increased success each season. Ranked as a "Top 10" Formula Drift driver for the last five years, JTP has worked hard to hone his skills and edge out his competition. Piloting a 2014 Ford Mustang, JTP is a vocal supporter of "made in the USA" brands and believes in supporting those companies whenever possible. "I have a lot of respect for the WELD brand because of their quality-first attitude and long history of manufacturing high-quality race wheels in the U.S.," said Pawlak. "By working with WELD, I can be a brand ambassador for WELD in the drifting community. This is a great opportunity for me because I feel that lightweight, high-quality race wheels are a significant performance advantage that is often overlooked in drifting." American-based manufacturing is a cornerstone of WELD's business model.  By housing design, engineering and manufacturing in Kansas City, Mo., WELD can maintain a level of quality control and product consistency that is much less common among overseas manufacturers, even when the company's headquarters are based in the U.S. "WELD Racing makes wheels for all forms of racing, and drifting is no exception," said Chris Bovis, vice president of marketing, WELD. "Justin is a fantastic driver and a great spokesperson to bring WELD's quality and performance to a new customer. We look forward to his success and working with him to refine WELD products for this exciting sport and its fans." JTP will continue to race his 2014 Ford Mustang in the 2015 Formula Drift series, as well as other events throughout the country. The car will feature 18" WELD S77 wheels in staggered widths to accommodate the massive horsepower from the Roush-Yates supercharged Ford Racing Coyote engine. JTP will be at the SEMA Show signing autographs in the WELD booth #24957 on Tuesday, November 4 from 10:30 – 11:30 a.m. He will also perform drifting demonstrations at the Ford Experience exhibit outside the Las Vegas Convention Center in front of Central Hall on Tuesday, November 4 from 12:15 – 1 p.m. For more information about WELD or any of the WELD brands, phone 800-788-9353 or visit
www.weldracing.com
.
####
Attached Image: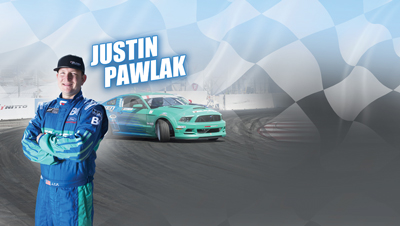 Image Download:
http://goo.gl/HhEA1V
About WELD Racing
WELD Racing LLC, based in Kansas City, Mo., is the technology and manufacturing leader in the performance wheel market. Since 1967, Weld has been a pioneer in wheel engineering and design from Main Street to the race track. Weld's precision and quality is validated by amassing more professional race wins than any other wheel company. Every race and street wheel is subjected to the same quality and design standards. WELD's entire line of performance wheels can be seen at  
www.weldracing.com
.   
WELD Racing is a Granite Creek company. Granite Creek invests in businesses with defensible market niches, recognized brands, strong intellectual property and/or manufacturing process assets led by entrepreneurial management teams in food/agribusiness, medical devices and instruments, and transportation industry sectors.
For more information, contact

:
Jennifer Collins, Marketing Manager WELD Racing 816-423-5717
jcollins@weldracing.com
Gary McCoy, PR Director The Marx Group 847-622-7228
gmccoy@themarxgrp.com